Yesterday I pushed out version 1.3.3 which includes many bugfixes.
The loading was broken in the previous version.
Removing the BinaryData switch broke the loading of images, so I had to bring back the config define FOLEYS_ENABLE_BINARY_DATA to activate the images from the Projucer BinaryData.
The examples are now built on github actions using cmake. That means you are free now to choose either the Projucer generated jucer files or the cmake of JUCE.
A new feature is, that there is a callback createGuiValueTree() you can override. The original version in MagicProcessor will populate with the generated version from the parameter tree and the MagicPlotSources it finds in the magicState.
Overriding this method allows you to come up with your own strategies to automatically generate a GUI procedurally or change only certain aspects like the stylesheet, colours or add your branding.
Also new is the possibility to use film strips for sliders: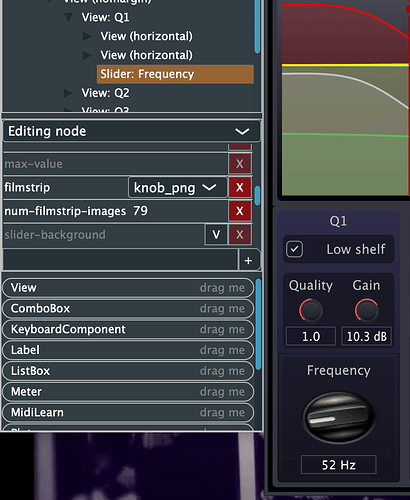 An update is highly recommended.
Please let me know if there are any hickups.